732 Avenue E, Bayonne, NJ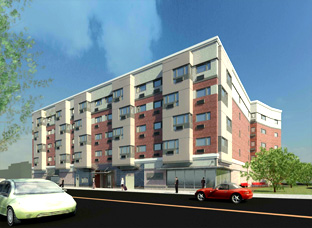 46 unit workforce and market rate rent development, located at the corner of 45th Street and Avenue E, right at the 45th Street Light Rail Station. Occupancy is expected summer of 2013.
This newly constructed 5 story mid-rise apartment building contains all of the latest in modern technology and green building elements. With an onsite parking garage sitting at ground level, this building was designed for working families who either drive to work or choose to use mass transit. Located in the heart of Bayonne, just one block from all local shopping and a couple of blocks walk to the Bayonne Medical Center Hospital, this is a great location to call home.
Apartments are bright, spacious and comfortable. Rents range from $790.00 to $1,083.00 for one, two and three bedroom rental units.