Mason's Ridge Townhome Apartments
84 Unit Rental Development, New Windsor, NY – Occupancy starting early summer 2012.
Sitting high on a ridge overlooking the Hudson River Valley and conveniently located along Windsor Highway (Route 32), this 84 unit workforce rental development provides easy access to local shopping and all local businesses surrounding Stewart Airport.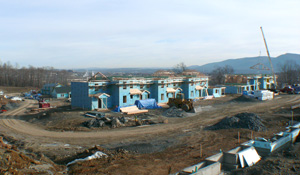 All 84 units have separate townhome entrances, including 18 one bedroom, 31 two bedroom and 35 three bedroom apartments, with a mix of duplex and flat style townhomes.
All townhomes will have the benefit of the latest green building technologies including solar panel to help offset energy costs.
The free parking, on-site laundry and large community building allow an ease of living in a beautiful country-like setting.