Regan Development Wins NYSERDA CST-PV Program "Trailblazer" Award
This award is given in recognition of a team approach to integrating multiple NYSERDA Residential programs into a single project.
The team approach to this 'Trailblazer' project extended even beyond NYSERDA programs and included the New York State Homes and Community Renewal (HCR) and the Orange County HOME Program.
The winning team, worked together to provide a comprehensive solution to durable, comfortable and energy efficient new construction and use of renewable electric generation on the 84-unit Mason's Ridge affordable housing development. The project participated in both the New York ENERGY STAR Homes Program standards and NYSERDA's Standard Offer PV Program, incorporating 260kW of installed PV capacity that will produce over 300,000kWhs of clean electricity annually.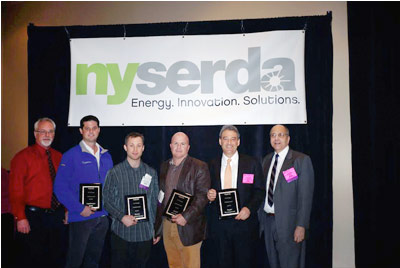 The winners of this year's CST-PV Trailblazer award goes to the team responsible for the Mason's Ridge project are:
Regan Development
Libolt and Sons
Spruce Mountain Design
Lighthouse Solar
Accepting the awards are: Larry Regan, of Regan Development, Keith Libolt of Libolt and Sons, Troy Hodas of Spruce Mountain Design, and Jordan Mills and Jason Iahn of Lighthouse Solar