Regan Development's New Jersey Buildings "Go Solar"
Seven Regan Development buildings in New Jersey have recently been selected by the New Jersey Housing Mortgage Finance Agency to participate in a Solar PILOT program.
This Solar PILOT program funded by the federal government through the New Jersey Board of Public Utilities, New Jersey State Treasury, in coordination with the NJHMFA allows for the funding and installation of solar panels on the roofs of all seven developments.
The energy created by the solar panels will reduce electric usage and help offset energy consumption coming from the Grid.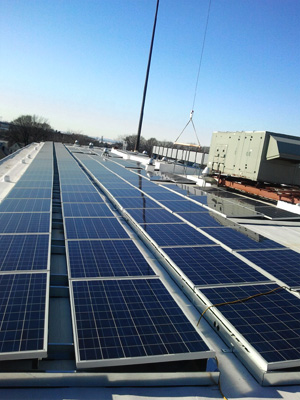 Loans provided by the NJHMFA for the projects will be repaid through the sale of SCREC's (solar renewable energy credits) which were pledged to the NJHMFA allowing all seven solar projects to proceed providing a "win win" green solution to reduce energy usage.
The seven locations participating in the Solar PILOT program are:
Senior Horizons at Clifton, 714 Clifton Ave., Clifton
Horizons at Clifton II, 100 Scales Plaza, Clifton
Horizons at Clifton III, 101 Scales Plaza, Clifton
Senior Horizons at Bayonne, 74 Lexington Ave., Bayonne
Horizons at Plainfield, 140 W. Front Street, Plainfield
Zion Court (Sam's Place) 446-60 E. 19th Street, Paterson
Clinton Street Lofts, 11-15 Clinton Street, Newark